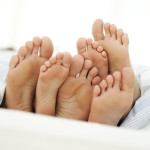 Nina offers treatment for many common foot problems, the most common problems range from removal of call0us build-up to wound management of ulcerated feet.
If you have a any problems with your feet Nina will be happy to give you free advice over the phone and if she can't help she will be able to point you in right direction.
Your first appointments will consist of a initial assessment where Nina will take your medical history identify a personalised treatment plan and carry out the first treatment. In many cases only one treatment is necessary. This may involve callus (hard skin) removal using her specialist skills using a scalpel (this offers longer lasting relief than any pedicure), removal of corns or comprehensive nail cutting.
In some cases problems with the feet can lead to other musclo skeletal issues effecting the way you walk (otherwise known as your gait). In these situations Nina will refer you on to her colleague Rosemarie Newman who specialises in biomechanical Assessments and Treatments.
In addition to these Nina stocks a range of Gehwol foot creams to help maintain the health of your feet. Gehwol is a leading producer of foot care products and one of the most trusted providers on the market.